Tipp2014 is held at the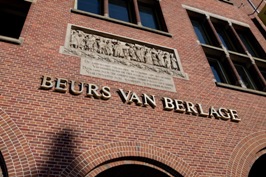 Beurs van Berlage, a building with a rich history and beautiful architecture. The Beurs van Berlage was built between 1898 – 1903 under the auspices of the famous architect H.P. Berlage. In its time the building generated some controversy, but today it is considered to be a fine example of modern Dutch architecture.

The Beurs van Berlage is easily accessible by public transport (see map). The Central Station is located at walking distance (approx. 300 meters). Upon leaving Central Station you can already see our building in the distance in front of you, along the main street called Damrak, leading into the city center. The Dam/De Bijenkorf stop is the nearest tram stop. The following trams stop here: 4, 9, 16, 24, 25.
The Beurs van Berlage is 20 minutes away from the A10 Ring road. For more information about parking click here.
Address
Beurs van Berlage
Damrak 277
1012 ZJ Amsterdam
www.beursvanberlage.nl